eBay Daily Deals is the eBay section where eBay selects the most interesting things to buy today. As you can imagine, often the price of such offers opens good opportunities, however behind them there is a serious threat – getting banned (buying restriction), often for all your other eBay accounts at the same time.
What is the problem?
Products in the eBay Daily Deals section are usually sold with «in one hand» purchasing limitations. But it often happens that you receive more orders than this restriction. And then after an unsuccessful attempts ordering on the primary account, you try ordering on another – effectively bypassing this restriction. It will work for a while, but soon you may receive a message like this:
Also in your mail you can see a letter like this:
Moreover, not only the current eBay account can be banned, but also all related accounts (and eBay most likely knows about all your VPS and other tricks – yes, yes!) Recently, such cases have become more frequent, which may mean that eBay actively took up on this approach. Therefore, it is important to understand how to proceed further in these conditions.
What to do?
For safer and more comfortable work with eBay Daily Deals products, we introduced a special setting in Default Settings: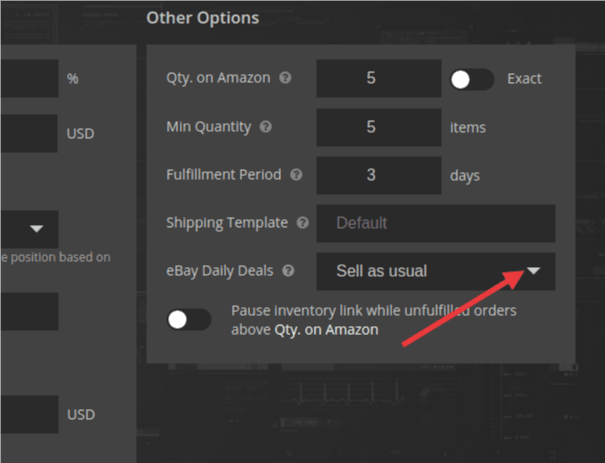 Sell as usual – work with Daily Deals items as usual items.
Sell no more than 1 piece (3 pieces) – regardless of the inventory link settings, if the inventory link's main item is the Daily Deals item, the system will set the quantity on Amazon = 1 piece (3 pieces). This would prevent getting a dozen of  orders for such item that may cause  problems because of the buying limit for this Daily Deals-item.
Do not sell (remove temporarily) – the system will disable the Daily Deals items in inventory link, and will include them when their Daily Deals status is removed.
The most important rule when working with eBay Daily Deals items is to  use your head. If you could not purchase the item on one account – DO NOT TRY TO DO THIS ON OTHERS! Also, with Auto-Purchase, even with the Try Auto-Purchase subsequently on all your eBay accounts if it fails on the selected account option enabled, the system will stop purchasing at the first failure and display a message in the order that this item is Daily Deals and should not be subsequently purchased on other accounts. In this case, it is better to purchase outside of eBay or cancel the order.
What are the limits on buying items from eBay Daily Deals?
It is important to understand – the items in eBay Daily Deals are constantly changing. In fact, no one will tell you about a specific limit – eBay itself puts it individually for each item based in their own considerations. This may be 10 per day, and maybe 1 overall. It is important to understand one thing – as soon as you place an order and receive an error from eBay in the following way: This item isn't available in the requested quantity. It may have been purchased already, or the list – this means it's time to stop for a while until the limit is reset.
Take everything written above seriously today – to not to regret tomorrow! Also contact Support with any questions